Here I sit, finally prepping for the start of the new school year.  After this past year, and with new developments, and a smidge of self-pity, I already want the year to start so it can be over so next summer can arrive.
I've done nothing school-related for the last month because I needed a break.  No Tweet Chats, no blogging, no shopping, no classes.  This is only the second time I've opened my laptop.  I did read three work-related books, so I guess I didn't do nothing.  I just have no motivation to give more to a job that gave me nothing but grief, no matter what I did to change it. Especially over vacation.
At the end of the year, I was looking forward to this break so I could get education-related stuff done that I couldn't get to while teaching.  I have two separate lists created to ensure I wouldn't forget all the things I wanted to accomplish now that I had time.  Know how much I've done in the last month?  About 30% of it.  Once I got away from the school environment, I lost my motivation.
I'm like that with running, also.  If I don't have a race looming in the near future, I tend to slack off on my runs.  My next race isn't until September. That's too far off.  I'm going to need to give myself a goal to keep up with exercising.  Hmm…  I have a month until school begins.  Wonder if I can lose 20 lbs….
Anyway… I suppose I'm nervous (nervous? no. concerned? not right. apprehensive? meh.) cautious about this new year.  When the entire SpEd team asks to leave the school for other jobs in the county (and outside the county) that should be a red flag.  Someone, somewhere, needs to recognize that.  So everyone received new their new positions in the county for the upcoming year.  Except me.  I'm still here.  With a new team. Although you can't call it a team, because even when we were all still together, we were not a team.  That was frowned upon.  There was no SpEd team; only grade-level teams which the SpEd teacher was a part of.  Uh-huh.  I've been told that will be different this year.
I'm also on a new grade-level team than the last three years.  For this I am happy.  While not a fan of change, I needed to get back to the little guys. I've left third grade and returned to PK and Kindergarten.  I will miss my teammates in third, but the team in ECE is solid.  However, this blog is called This Side of Third (Third Grade Things).  Do I change it (This Side of Kindergarten)?  Modify it (FKA This Side of Third)?
I actually spent an hour looking at new blog themes here, and on WordPress, for inspiration. Nothing happened.  So, for now, even though it's an untruth, the blog remains what it is.  Although, this happened: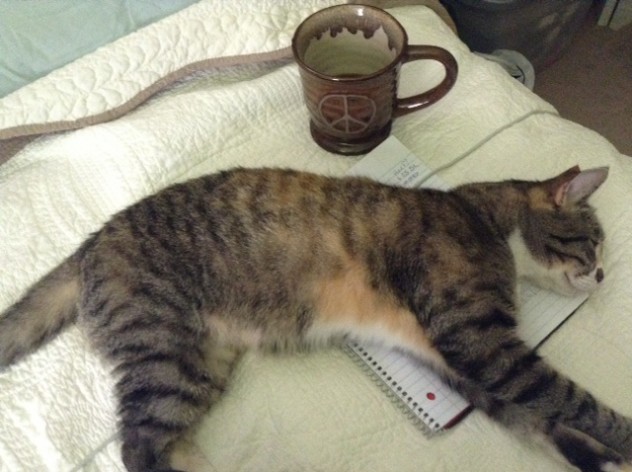 It's tough helping mom with her blog and listening to jazz.
I know it seems like I'm always bitching about my job.  I DO love teaching. I just don't like all the crazy that goes with it.  And if I don't vent here, I tend to do it at work, and that gets me in trouble.